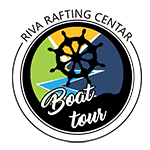 Boat ride on a quiet part of the river Zrmanja
Swimming in the sea
Enjoy on the river Zrmanja
The tour of the Zrmanja starts from Obrovac, where the river continues to flow through the canyon filled with vegetation characteristic for this terrain.  Before beginning your tour in Obrovac, make sure to visit the Benedictine monastery and the chapel of St. Nicholas, which testify of the Zrmanja's importance as a waterway throughout history.
As the river continues further the vegetation changes, and the canyon is taken over by steep rocks, interrupted by cliffs of layered limestone that, as guardians of the ages, are said to protect the canyon from unwanted visitors. According to the legend, these guardians could only go down into the canyon if they could find the "portal" of Prince Marko.
Among the rock and water, you can notice a lonely cliff with a small stone building, the so-called "Pržunac". According to historical findings, this was the last dungeon of the imprisoned Croatian queen Jelena, which confirms the historic importance of the River Zrmanja and its canyon in the history of the land.
At the very end of the canyon, as the Zrmanja flows into the sea, the canyon is embraced on both sides by impressive cliffs, where in just a few hundred meters space you can find the griffon vultures, the Odysseus' Cave as well as the remnants of an ancient settlement, locally called "the ancient Šibenik".
Thus, with a huge historical heritage and unique beauty, the river quietly and discretely flows into the Novigrad Sea.
START - Riva Rafting Centar Ured